This is a Sponsored post written by me on behalf of
T.G.I. FRiDAY'S
for
SocialSpark
. All opinions are 100% mine.
I was grateful to receive my first lead on Social Spark a few weeks ago, and even more excited to receive my letter in the mail, along with a coupon for T.G.I.Friday's
Entree for One
to try and review.
I accepted this offer because i have tried T.G.I Friday's products in the past, as well as visited their establishment, and I have been quite impressed!
My family has never tried their entrees, so I thought this would be an excellent opportunity for us! Some of our favorites are the Chicken and the Steak Quesadilla Rolls, Mozzarella Cheese Teasers, Sweet and Smoky Popcorn Chicken, and I absolutely go crazy for the Spinach and Artichoke Dip! (Especially with a loaf of french bread to dip! Yum!!)
This promotion was geared towards males, so my husband chose the entree and he chose Prime Rib Stroganoff
Entrees for one
.
T.G.I. FRiDAY'S "Entrées for One"
The price was perfect, (of course we received a coupon for a free entree for this sampling), but even without the coupon, I was impressed with the $4.49 regular price, AND the sale price of 2/$5! So, right away, they already earned a few points with me!
I also have recently noticed the abundance of coupons this company puts out in the Sunday inserts, so again, more points!!
The package is very pleasing, and shows an appetizing picture of the meal inside the box. Another plus. The ease of preparing this entree, was super easy and quick! 3 minutes in the microwave, pull it out, peel back the plastic, stir, cook for another 2 minutes, let stand for 1 minute. That's fairly simple for a husband who has much better things to do with his time!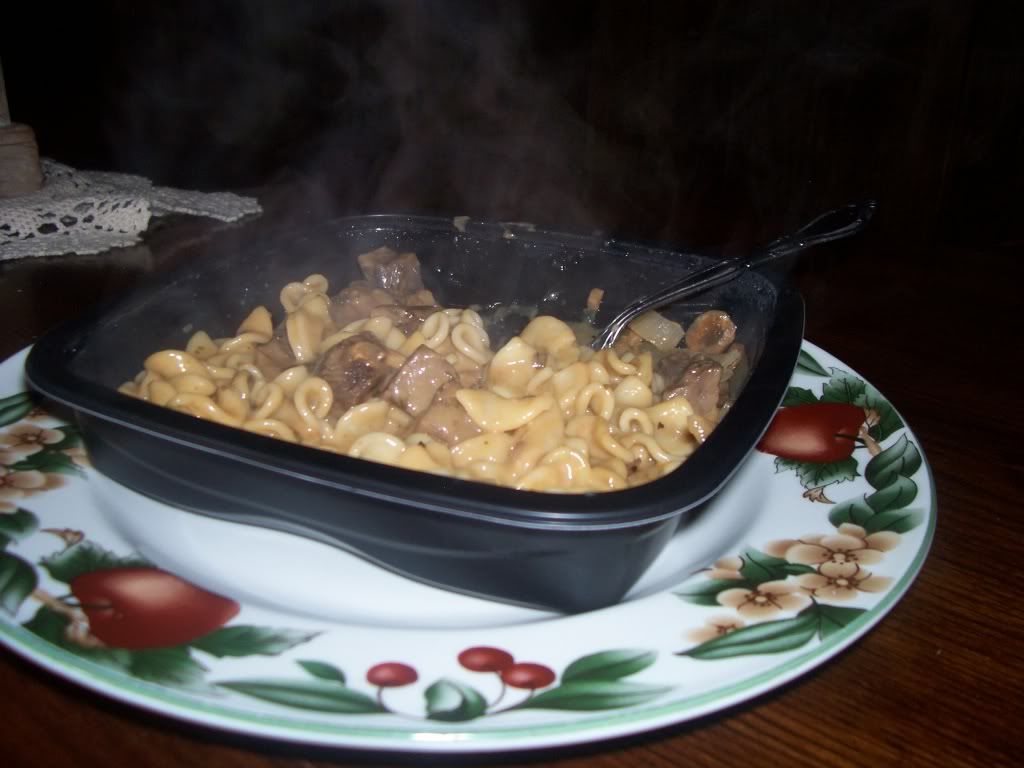 I also tried a bite of this entree, and I have to say, unfortunately, I was not impressed. It looks great, I believe the portion is perfect, although our husbands may not think they are big enough. But they are! (390 calories and 90 from fat in this specific entree!!) I was not happy with the amount of pepper in this dish, just a bit to much, and i am a big pepper fan. I did like the rest of the sauce, and i did think the noodles were pretty darn good! Especially for being a frozen microwave meal, they cooked up very nice!
Onto my husband's review;
The prime rib was very tasty, I like the sauce, the noodles are good, and it is to peppery! I could do without the mushrooms and my wife's stroganoff is much more delicious then this! (Ok! I added that last part, lol)
It was quick and very easy to prepare, and I can eat these when my wife is at work or shopping and make one for a quick lunch or dinner! I am anxious to try more of these entrees.
Back to me for the last part of our review. I am a sucker for homemade meals, I cook almost every night of the week, and mostly at least half from scratch. I was hoping to find a good, tasty, (i don't care about the calorie content, especially if we will be using these once in a while), simple meal for my family that would give them choices, and me a night off!
I will be trying a few more of these entrees, just in case we find a few that will fit in the freezer, and will satisfy an army! (One more thing, these packages are very cool, and save you space in the freezer! You will be happy with the size and shape, a perfect fit!)
Please make sure to check out T.G.I. Friday's facebook page and sign up for their
Fun Freezer contest